Painting in Weddington, North Carolina
Looking for a Painting Contractor in Weddington, North Carolina?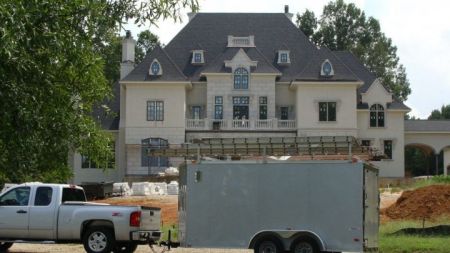 Anthony Meggs Painting LLC's trusted Weddington painters provide professional painting services to Weddington property owners. Painting Weddington commercial properties and homes beautiful for years since 1995, Anthony Meggs Painting LLC has gained a reputation as a trusted company to call for painting in Weddington, NC.
A Passion For Painting in Weddington
We can handle home painting projects of all sizes. Our experience with Weddington exterior house painting, interior painting, trim and molding painting, paint touch ups and drywall repairs is second to none. Give us a call and put our expertise and passion to work. We'd be happy to share a list of satisfied Weddington residential painting clients with you.
Weddington Painting Contractor You Can Trust
Weddington house painting customers expect reliable and prompt service. Whether for new construction or to spruce up a home for your own enjoyment or prior to sale, Anthony Meggs Painting LLC provides fast service from dependable painters. Our conscientious staff of painters in Weddington work hard to complete house painting projects on time and with minimal disruptions. Your satisfaction is guaranteed.
Available for all sorts of exterior and interior painting in Weddington, NC, Anthony Meggs Painting LLC offers experience and reliability at a price you can afford. Trust our expert service and call Anthony Meggs Painting LLC at (704) 659-1313 for your free estimate.
---
Call for FREE Painting Quote
---
WHAT CUSTOMERS ARE SAYING:
5★★★★★ - "Professional and Beautiful!"

Gregg W., Painting in Weddington, NC

2019-04-24

5★★★★★ - "Very attentive to my complicated house painting project. Great attention to detail and willing to address my questions and concerns as the project progressed.
My house looks wonderful!!"

Homeowner, House Painting in Weddington, NC

2019-06-20

5★★★★★ - "Anthony and Stephanie were great to work with. I had a budget and Anthony understood what I was trying to accomplish for my mother's kitchen."

Penny Welsch in Charlotte, NC

2020-06-19

5★★★★★ - "Great customer service and business. We would definitely recommend and use again."

Anonymous

2020-06-18

5★★★★★ - "From my initial phone call forward, Anthony was professional and very easy to talk with. He was able to schedule me for a painting estimate quickly. He arrived on time on the day I was scheduled. His quote was reasonable and he thoroughly explained the process and while giving me personal attention and answering any of my questions. His painters came on the day scheduled and on time. They were always professional, courteous and respectful of my home. I was able to communicate questions or concerns with them easily, and they went above and beyond to give my husband and me the best experience possible. I have to also give a special thank you to Stephanie who was there to help coordinate the process both in the office and on site! This company really works as a team and it was refreshing to see such courtesy and professionalism. We were so impressed with their commitment to excellence and the finished job that we hired them right away to pressure wash the exterior of our home and paint our shutters. I truly wish all companies strived for such excellence and pride in their work! Thank you, everyone, at Anthony Meggs Painting."

Mary & Doug

2020-03-16

5★★★★★ - "Great company. They were very easy to work with, professional, responsive and by far the best painters I have ever experienced. They were so good that I am using them again for an outside project."

Kathy Ramsey in Matthews, NC

2020-03-16

5★★★★★ - "Exceptional workmanship and follow through. Would highly recommend."

Homeowner, Painting in Monroe, NC

2019-11-13

5★★★★★ - "The guys were respectful and did a top class job. I've recommended to friends and will hire them again for my next painting job."

Pierce H., Painting in Matthews, NC

2019-10-14

5★★★★★ - "I'm so pleased with the work from Anthony's team. From the beginning, I knew just what to expect. I was given regular updates through the course of my project, and we had a walkthrough at the end to ensure I was satisfied with the final result. There were no surprises in terms of price or timeline. I feel as though I have a reliable partner in my home renovation projects, and I'll be hiring Anthony's team again for future jobs."

Sarah S., Painting in Charlotte, NC

2019-10-14

5★★★★★ - "Probably the most professional, open dialogue, seamless, transparent local company I have ever worked with. Plus, the bonus is they do outstanding workmanship and as requested and suggested."

Jeff D., Painting in Monroe, NC

2019-06-10

5★★★★★ - "Anthony -Meggs did a fantastic job. Everything was done very professionally. They did a fantastic job of cleaning up afterward. I would highly recommend them."

A.T. in Concord, NC

2019-01-07

5★★★★★ - "Great job on several small jobs. Quality work, done when promised, neat and thorough. I will definitely hire them again."

George A., Painting in Marvin, NC

2018-12-12

5★★★★★ - "We at Bona hired Anthony Meggs to paint our new Regional Training Center in Monroe, NC. He was the first to come out to see the space and the first to provide us an estimate. We valued his communication so much that we knew our experience would be a great one. Anthony and his team completed the job sooner than expected, they were very professional, on time and left the space clean. I would highly recommend them to anyone."

Martin Ceballos in Monroe, NC

2018-10-04

5★★★★★ - "I'm typically the DIY type when it comes to home projects, but circumstances dictated that I call in the professionals for my dining room. I'm confident I made the right choice in going with Anthony Meggs Painting.
After getting a few quotes elsewhere, I was trying to determine the correct route and exactly how much work needed to be done. Anthony said the magic words, "Well, if it were my house, that's how I'd do it." I knew I was going to be in good hands and that Anthony and his team would be respectful to my home and mindful to my budget and scope.
I couldn't be happier with the work done by Anthony and his team. Every step of the process was painless. They were flexible with scheduling, happy to answer my questions, and transparent throughout.
I'm planning to call Anthony first on the next several painting projects for my home and I'd happily recommend him to anyone in the Charlotte area."

Sarah Shumway in Charlotte, NC

2018-10-03

5★★★★★ - "Takes pride in their work and very nice people to work with."

Ritchie Love, Painting in Stanfield, NC

2018-08-03

5★★★★★ - "Anthony and his crew did amazing work"

Business Owner, Painting in Charlotte, NC

2018-08-02

5★★★★★ - "Restained our older house and it looks like new! A. great job in all project.aspects. We recommend Meggs Painting for any paint/stain"

Wes & Lee Rundquist in Indian Trail, NC

5★★★★★ - "Highly reccomend these guys. Anthony, Matt & Paco did an excellent job! Great attention to detail."

Mark Usry in Waxhaw, NC

5★★★★★ - "I have to say that we have never experienced the professionalism and quality that this company provided to us. I wish we would have found them years ago."

Business Owner, Painting in Charlotte, NC

2015-06-03

5★★★★★ - "We have been looking for not only a professional painting contractor, but also one who is prompt and truthful. We will look no more. Anthony and his team have completed several rooms in our home for us without fault. They were punctual and very clean. We would recommend this company to anyone seeking a professional painting service. A+!"

Homeowner, Painting in Charlotte, NC

2015-06-03

5★★★★★ - "We hired Anthony Meggs Painting to paint our kitchen cabinets as well as our kitchen walls, hallway and stairwell. The entire staff was helpful, friendly and responsive. Lars, who did the actual painting was conscientious and detailed. I would highly recommend this company."

Suzanne in Charlotte, NC

2020-06-19

5★★★★★ - "We hired Anythony Meggs to fix the mistakes the first company we hired created and they could not have done a better job. They were polite, completed the work quicker than expected and were able to minimize the amount of drywall dust created from the job. I will certainly be contacting them again for our next remodel."

Anonymous

2020-06-01

5★★★★★ - "They were absolutely great! They were professional and timely. The work they did was fantastic and I would highly recommend them to anyone looking for deck staining work!"

Anonymous

2020-04-14

5★★★★★ - "Great experience. Excellent workmanship and customer service. I have used Anthony Meggs for multiple projects including kitchen cabinets, entire home interior paint, exterior paint and deck staining. I plan to use them again on another project soon!"

Stephanie Buehler in Charlotte, NC

2020-03-23

5★★★★★ - "Anthony and his team are the best! Very professional and hard working team. They did an excellent job painting the exterior of my home. I couldn't be more pleased with the work they did at my home!"

Jennifer and Michael Rains in Lancaster, SC

2019-04-15

5★★★★★ - "Very professional crew. Fabulous job on a very large project- fixed broken wood, stained all exterior, stucco updates, and more. These folks are professional and took the necessary time to do the job correctly."

P. Cunningham, Exterior Painting in Waxhaw, NC

2019-03-21

5★★★★★ - "The Anthony Meggs painting crew was very professional, hard working, and eager to please. From start to finish they were very responsive to our questions, cleaned up well when done, and even did a final walk through with me before leaving. Our cabinets look fantastic and we will recommend them forward!"

Homeowner, Cabinet Painting in Charlotte, NC

2019-03-06

5★★★★★ - "Anthony Meggs was a pleasure to work with! They were professional and timely. My cabinets are BEAUTIFUL - they don't look painted. AMAZING job and I highly recommend!!"

Vivienne Anderson in Charlotte, NC

2019-02-13

5★★★★★ - "After my son put a hole in our wall I was trying to find someone reliable to come in and repair the hole but also take the guesswork out of all of it. From start to finish, the quote was quick and precise and communication was consistent. The day of, the guys who came were very professional and really nice as well, as I was working, and my mom was in the room as they were repairing. The finished work hole fixed and paint was absolutely flawless and looked like nothing had ever happened. The thing about that is the wall had some work that looked like it was previously done on the lower part of the wall and you see that just from a glance, but this work, you cannot even tell. I like that the job wasn't too small for them unlike some other companies I contacted before them. If I ever need more work done, I know who to call."

Homeowner, Drywall Repair in Wingate, NC

2019-01-07

5★★★★★ - "Very nice and professional. Made sure I was happy with the job before leaving. I highly recommend!!"

Kim Edwards, House Painting in Marshville, NC

2018-11-29

5★★★★★ - "After purchasing a home in Fort Mill, having my dreary, dark oak cabinets painted was on the top of my list. I am so pleased I found Anthony Meggs Painting! Anthony is a professional perfectionist. My old cabinets are absolutely gorgeous and smooth. They look better than new for a fraction of the cost! Anthony stays close to the job. He ensures every job that is done leaves the homeowner 100% satisfied. I highly recommend Anthony Meggs!"

Trish Hamilton in Fort Mill, SC

2018-10-11

5★★★★★ - "Very competitively priced, did an excellent job on all walls and ceilings and continuously checked in with us along the way to make sure we were satisfied. We were very satisfied and would highly recommend"

John in Wesley Chapel, NC

2018-10-09

5★★★★★ - "Anthony did a wonderful job on resurfacing our cabinets. I could tell that Anthony takes pride in his work and it definitely shows. I will definitely recommend them to anyone that is looking for work done."

B Ray in Rock Hill, SC

2018-10-04

5★★★★★ - "They were amazing! They are very good about making sure everything is covered and making sure you are happy with the work before even paying! Very satisfied!!!"

Rosi Hall, Exterior Painting in Lake Wylie, SC

2018-10-03

5★★★★★ - "I had my kitchen cabinets painted white and they are like new as if they were always this color. The service was fast, extremely neat with little cleanup left after the job was done. Highly recommend this company for your painting needs"

Marian M in Charlotte, NC

2018-08-20

5★★★★★ - "Unreservedly recommend Anthony and his team of professionals. Whole home interior including woodwork (11 different wall colors!) and ceilings completed to perfection. Trustworthy, efficient, reliable, and committed to excellence...these folks transformed our home!"

Kevin and Corrie, Interior Painting in Matthews, NC

5★★★★★ - "We had such a positive experience with this company. The owner and staff were so easy to work with. They listened to what we had to say and provided a great product. Our kitchen cabinets are exactly what we wanted. We could not be happier. We will definitely recommend Anthony and Matt in the future...."

Dennis & Linda Patti in Indian Land, SC

5★★★★★ - "Anthony and his crew are top notch. He and his crew are extremely knowledgeable and professional. Anthony was easy to reach with any questions we had, as well as prompt in his response time. Most importantly, we felt comfortable having them in our home for a week during our project. We will use them for ALL our painting projects in the future. We highly recommend Anthony and his crew!"

Katie Wagner in Charlotte, NC

5 ★★★★★ - "We have used Anthony Meggs Painting for all of our painting needs over the past 13 years. There is no one we trust more. His attention to detail, committment to quality, and overall professionalism is unmatched. He has completed interior and exterior painting, cabinet refinishing, painiting of furniture, drywall work, and woodworking for us. There really isn't anything he can't do! And it will be done to the highest quality!!"

Jennifer Coble in Charlotte, NC

5 ★★★★★ - "Anthony and his crew have done numerous jobs including deck replacement, painting and getting a house ready for sale. I am a very demanding customer but have yet to find any issues with any of the work they have done. Very highly recommend these guys. "

Steve U. in Fort Mill, SC

5 ★★★★★ - "Anthony refinished cabinets in the laundry, study, kitchen and hall tree of a million dollar home for us recently. We were very pleased with Anthony and his crew's professionalism and craftsmanship. Our client was a very sophisticated and particular client whom I am happy to report was very pleased with the product. Thank you Anthony."

Providence Custom Builders, LLC in Waxhaw, NC

5★★★★★ - "Anthony and his crew started our job on a Monday and finished on Saturday. They were very professional and courteous. Anthony showed up everyday on time and cleaned the entire house before they left. As for us we will never use another painter."

Homeowner, Interior Painting in Charlotte, NC

2015-06-03

5★★★★★ - "What a great company! These guys do great work I would recommend them to anyone."

Homeowner, House Painting in Charlotte, NC

2015-06-03

5★★★★★ - "My husband and I needed a few rooms painted. Not sure who we should go with, we called numerous painting companies. After meeting Anthony we knew we needed to go with them. Anthony's knowledge of available products, and color helped us finalize our uncompromised debate. We are very pleased with the outcome of our rooms! We will use them again for all of our future painting projects."

Homeowner, House Painting in Charlotte, NC

2015-06-03

5★★★★★ - "We were extremely pleased with Anthony's work. He came out a gave us a quote within a day of calling him and we received a detailed quote the very next day. He was able to schedule the job within a week. He was very prompt and courteous. He and his crew did a fabulous job. They were very conscientious of doing a good job and always left the house very neat and tidy. He wanted to be sure that we were happy with his work. Needless to say, we couldn't be happier with the job he did and wouldn't hire anyone else for future paint."

Homeowner, House Painting in Charlotte, NC

2015-06-03
---
Call for FREE Painting Quote
---